<![if !vml]>

<![endif]>
Herring Laboratory Information
<![if !vml]>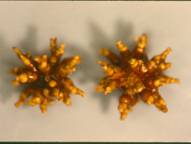 <![endif]>
Analysis of urinary calculi is an essential step in the examination and initial treatment of the patient with kidney stones (urolithiasis). Knowledge of the composition of calculi yields fundamental information concerning the pathogenesis of the disease, including metabolic abnormalities, presence of infection, possible artifacts, and even drug metabolism. Our report to the physician notes the weight, size, and shape of stones, the constituents of the stone and their order of deposition, the presence of a nidus and its composition, the presence of foreign bodies or artifacts, and the presence and identification of unusual components, such as drugs and drug metabolites. The need for specific analysis increases as progress is made in treating various forms of urolithiasis and as interrelationships among predisposing factors become evident.
We at Louis C. Herring Laboratory use an integrated approach to determine completely the composition of each urinary calculus (see below). The approach depends on the appropriate combination of conventional macroscopic and microscopic techniques with physical techniques, such as optical crystallography, chemical tests, x-ray diffraction, infrared spectroscopy, fluorescence, and chromatography. Each method has merit in specific situations. Whereas a single method may not be adequate for all analyses, a combination of methods used in a complementary fashion may be relied on for accurate results. The table below is an outline of the general procedure used in our laboratory for analyzing urinary stones; it leads to a semiquantitative estimate of stone composition.
General Procedure for Analyzing Urinary Stones
<![if !supportLists]>1. <![endif]>Macroscopic examination-- weight, size, shape, number (all calculi)
<![if !supportLists]>2. <![endif]>Microscopic examination-- nidus, order of deposition of constituents, estimate of composition, removal of minor components for physical and chemical tests (all calculi)
<![if !supportLists]>3. <![endif]>Photomicrography, when desired.
<![if !supportLists]>4. <![endif]>* Polarization microscopy
<![if !supportLists]>5. <![endif]>* Infrared spectroscopy
<![if !supportLists]>6. <![endif]>* X-ray diffraction
<![if !supportLists]>7. <![endif]>* Ultraviolet/visible spectroscopy
<![if !supportLists]>8. <![endif]>* Chemical microscopy
<![if !supportLists]>9. <![endif]>* Fluorescence and chromatography
<![if !supportLists]>10. <![endif]>Final, semiquantitative, modified estimate of composition from above results
* Selected samples as needed
|||||||||||||||||||||||||||||||||||||||||||||||||||||||||||||||||||||||||||||||||||||||||||||||||||||||||||||||||||||||||||||||||||||||||||||||||||||||||||||||||||||||||||||||||||||||||||||||||||||||||||||
Louis C. Herring Laboratory, the developer of the "Integrated Analysis" approach to the analysis of urinary calculi, offers to the medical community the expertise of its highly skilled technologists and the assurance of precision crystallographic analyses that only time, experience and dedication can produce.
Our Services Include:

Detailed Semi-Quantitative Analysis

Identification of the Nidus

Component Order of Deposition

24-48 Hour Turn-around with Same Day Reporting via Fax, First Class Mail and/or Internet

Drug and Metabolite Identification and Investigation

Analysis of Minute Specimens (no minimum size requirement)

Computer Search Ability for X-Ray and Infrared Data

Photos on Request

Pre-Addressed Mailing Containers, Gratis, to U.S. and Canada

Quality with Service

Reasonable Fee

Reporting Analytical Results
The results of qualitative and semi-quantitative analyses are completed 24-48 hours after receipt of the specimen at Herring Laboratory. A descriptive, professional report including a gross description, component order of deposition and identification of the nidus is then faxed, mailed and/or made available by internet the same day.
Photomicrography of the interior and exterior of the specimen is offered, if requested, for a small additional charge.
Sample Reports
<![if !vml]>

<![endif]>   Urinary Report #1
<![if !vml]>

<![endif]>   Urinary Report #2
<![if !vml]>

<![endif]>   Urinary Report #3
<![if !vml]>

<![endif]>   Biliary Report
<![if !vml]>

<![endif]>   Salivary Report
<![if !vml]>

<![endif]>   Certificate of Analysis Report
Mailing Specimens
Specimens should be air dried, then placed in a pre-addressed specimen mailing container.  Minute specimens may be placed in the gelatin capsule provided. Mailing containers are supplied gratis in the USA and Canada.
---
<![if !vml]>

<![endif]>

Copyright © - Louis C. Herring & Company, Inc.